Chemeketa Eola Venue Rental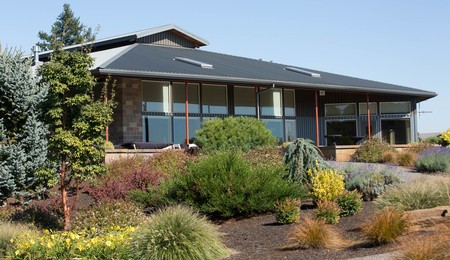 Chemeketa Eola offers a winery background with sweeping views of the Northwest valley and casually elegant hospitality for any event. Whether you are planning a corporate event, a staff retreat, a luncheon or an intimate anniversary gathering, Eola can meet your needs. Chemeketa Eola is also home to the Northwest Wine Studies Center, Chemeketa's Wine Studies program, and the student-run Chemeketa Cellars tasting room. (For information on weddings at Eola, visit our Weddings webpage.)
Rentals include:
Meeting room set up (tables and chairs)
Two-monitor computer workstation with projector, screen, sound, laptop connectivity
DTEN all-in-one Zoom video conferencing system
Wireless microphones
WiFi internet access
Chemeketa staff for onsite support
Optional linen rental and coffee/tea service add-ons
Outside catering allowed
Informational PDFs:
---
Tours
Sign up for a tour of Chemeketa Eola by using the link below. To set up an alternate date, please contact eolaevents@chemeketa.edu.
Sign up here: https://forms.gle/AtqgW2eb4MwLHVsS8
Thursday, 1/26/2023, 5:30 pm
Tuesday, 1/31/2023, Noon
Saturday, 2/4/2023, 11:00 am
Thursday, 2/9/2023, 6:00 pm
Tuesday, 2/21/2023, 4:30 pm
Wednesday, 3/1/2023, Noon
Saturday, 3/11/2023, 9:00 am
Please email eolaevents@chemeketa.edu or call 503-584-7254 with questions.
---
Venue Photos
Photogallery rendered here.