Live Music with Dante Zapata
| | |
| --- | --- |
| Date: | Thu, Aug 3, 2023 |
| Time | 5:00 PM to 7:00 PM |
| Venue: | Chemeketa Cellars, Northwest Wine Studies Center, 215 Doaks Ferry Road NW, Salem OR 97304 |
| Contact: | Megan Jensen |
| Phone: | 503-584-7254 |
| Email: | contact@chemeketacellars.com |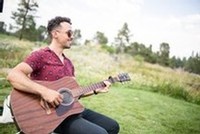 Dante is self-taught singer and guitar player who started learning the language of music around the age of 12. Dante's love of music is matched only by his passion for family and Oregon wine country. Dante is asked frequently, "what kind of music do you play?", a sometimes difficult question to answer. He's known to play anything from blues to country, jazz to gospel. This acoustic artist eloquently answers, "music for the soul".

Dante is not only a tasting room musician but his musical journey has lead him to become a producer of a wedding band agency in Portland. He frequently shares the stage with world-class musicians. "I love weddings. Seeing people celebrating, having a blast, and dancing the night away is one of my all-time favorite things."

"I grew up playing and listening to music with my family. The love of music and art runs deep in my family. Only a few of us are performers but mostly all of us are creators in one way or another."

Dante has been working as a musician in Oregon's wine industry for over a decade. "I had pretty rough start in life, most of my peers ended up with addictions. Not all of my people were fortunate enough to escape the hardships of our neighborhood. I feel very lucky and thankful to be a working musician. And to be a part of wine culture is one of my life's biggest blessings."

Not only is Dante a talented musician, but he's also a very gifted dancer. Up until covid, Dante had been performing, teaching, and competing as a swing, blues, salsa, and ballroom dancer. He's gained a powerful reputation in certain dancing subcultures across the country. "For the past few years I've had more opportunities in music than I ever thought possible for myself. I've officially become an international musician. I've done shows in France and Switzerland, I've done shows in Seattle, California, Colorado, Tennessee, South Carolina, and New York. I love music and performing, Its what I was born to do. I'm honestly overwhelmed by how much support I've gotten over the years for my God given talents. I'm very excited to see what the future has in store for my life. And I'm very thankful to everyone who's touched by what I do"